A Tribute
Not the least hard thing to bear when they go from us, these quiet friends, is that they carry away with them so many years of our own lives.
—John Galsworthy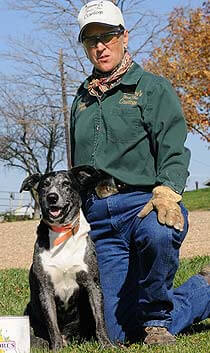 In August 2002, I purchased my first Hangin' Tree Cowdog. He was just a pup, but ready to work. I named him Bert and for the next four years, he and I completed all the ranch work ourselves. When we started our journey together, neither knew that a mere 14 months later, he would save my life. How do you ever repay a cowdog for such an enormous gesture? In the time after that, I came to realize the only thanks he wanted was the chance to work with me, beside me, day-in and day-out. Bert was larger than life. He was smart. He was athletic. He was loyal.
In every cattle working situation, he knew what to do without instruction. I could simply point out a sick calf in the wean lot and he'd quietly and respectfully take the calf to the corral and ease it up the alley to the chute. When we'd finish working a set of cows, he knew to gather them up and what gate to head them to to go out to pasture. I could leave him at a gate, go feed, come back and he'd still be at the gate, waiting for my return. If a cow's calf was hidden in the timber, I could tell Bert to "find the baby" and he'd put his nose to the ground, search until he found it, return to me and take me back to the calf. He simply had the ability to size up any situation and apply the right pressure and make everything work. We'd get done working cattle and you could tell him, "Bert, thanks for your help" and he would look at me with a big smile – as if to say, "You are welcome, now come on let's go". We'd be driving down the road and he'd take his right paw and pull my arm so that I'd rub his neck. Or take his head and bump under my elbow and say, "Hey, rub my back." And, he loved taking his pups out and mentoring them. His mate for life was Hawk and he truly loved her. They were an amazing pair and produced some tremendous offspring. Bert was majestic—more than any other animal I have ever known.
On September 6, 2010, after an accident on the ranch and the gallant efforts of the University of Missouri Vet School, I lost Bert. Tammy's Cowdogs exists today because of Bert. He is the foundation of my cowdog program and the model all my cowdogs must live up to. He took more than eight of my years with him. I will forever be grateful for the joy and loyalty he brought to my life. Words will never be able to describe how much Hawk and I will miss him