Cattle
Ranching Made Easier
It's important that my operation runs smoothly and efficiently. To accomplish this, I invest in reliable ranch tools and equipment from long-standing and dependable companies shared here.
Pearson Livestock Equipment, Thedford, Nebraska
Pearson Livestock Equipment is recognized throughout the United States and internationally. Their working chute is heavy and rugged. My Pearson chutes have the self-catch head gates, palpation cages and are equipped with Tru-Test weighing equipment and wand-style EID tag readers connected to the weigh indicators. My one-person operation totally depends on the handy features and ease of use of my Pearson chutes.
Geier Glove Co., Centralia, Washington
Established in 1927, Geier Glove Company produces some of the world's finest leather gloves for men and women. I have worn Geier gloves since 1972. I use styles 211, 240ES, 411, 411ES and 448. Comfortable rugged and great finger length and fit. I purchase my gloves through Frey's General Store, Stapleton, NE.
Skidmore, Laramie, Wyoming
Skidmore makes natural treatments for restoration, conditioning and protection of all the leather and wood in your operation. I keep two older (mid-1960's) bull ropin' saddles made by Wes Fuesner (Sandhills Saddlery, Ogallala, NE) cleaned and conditioned with the restoration cream. My mid-1980's saddles crafted by Rick Fuesner are also kept tuned up with restoration cream.
Montana Pitch-Blend Products, La Pine, Oregon
Leather Dressing
Leather Oil Soap
Leather Oil and Conditioner
Montana Pitch-Blend Products handcrafts a line of all-natural leather care products. They have produced their natural product for 20 years. When the humidity of the summer is at its peak, I use Pitch-Blend for some added protection for my saddles and tack.
Ritchie Industries, Inc.
Ritchie Industries offers a complete line of animal watering products all over the world. My father installed our first Ritchie cattle waterer more than 40 years ago and they are still in use today at the ranch. In the late 1980's and early 1990's, I installed more Ritchie waterers with the floating thermal caps (Commander I and II).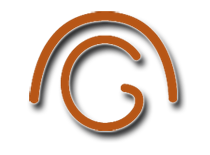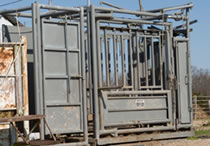 Pearson Livestock Equipment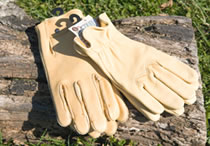 Geier Glove Co.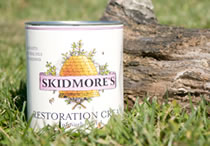 Skidmore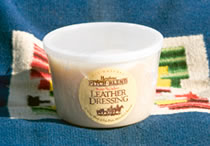 Montana Pitch-Blend Products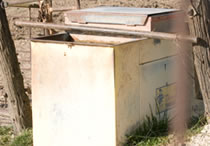 Ritchie Industries, Inc.